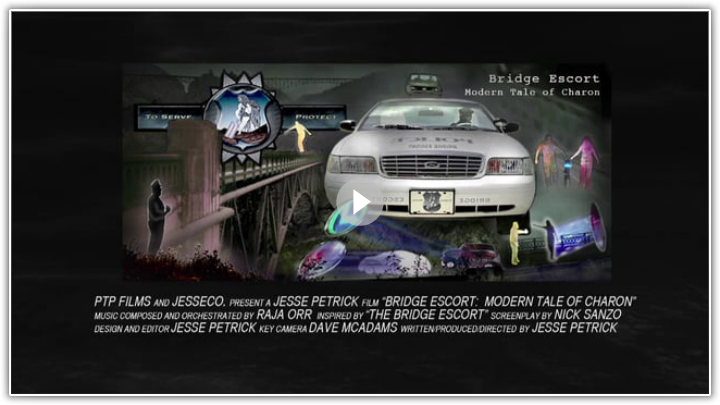 BRIDGE ESCORT: MODERN TALE OF CHARON promotional trailer 1
Lightbox With Flash by VideoLightBox.com v3.0m
If fear, doubt or remorse prevents you from your final destination, a bridge escort officer will see you home safe.

A modernized perception of Charon, The Ferryman of the River Styx. BRIDGE ESCORT: MODERN TALE OF CHARON is a multimedia short film based on the feature length screenplay THE BRIDGE ESCORT by Nick Sanzo. The initial intent is to modernize the ancient myth of Charon while exploring concepts and theories of the soul and an afterlife. It's main theme is man versus himself as we bare witness to the cathartic creation of a bridge escort officer. Written, produced and directed by Jesse Petrick.

This film is currently in the festival circuit. To find out about recent accolades on this project, please visit the awards page.

Note to Distributors and Festival Programmers: Please send an email inquiry to review the full project.